The debacle that was Sunday's Steelers vs Ravens game has pretty much sealed Pittsburgh's fate for this season…

ESPN
Pittsburgh's reign as NFL champion all but ended Sunday thanks to a 27-0 stomping by the Ravens. At 4-7, all that's left is another week or two and some fancy mathematics to make it official.
But what has caused such a quick and dramatic decline? The last two seasons the Steelers were a combined 31-7 (including the playoffs). Now, with virtually the same personnel, they are just two games behind in the race for the No. 1 overall pick in April's draft.
Not surprisingly, there are many reasons.
Coaching. So Bill Cowher decided to retire after the Super Bowl. That's fine. I understand. But the Steelers should have hired a replacement. It's nice they're trying to honor their legendary coach this season by placing a cardboard cutout of Cowher on the sidelines in memoriam, but the team has obviously suffered because of it. And, really, the cardboard-cutout Cowher is not a very good representation of the man who stalked the Steelers' sideline for 14 years. It is expressionless. It has no passion. It is unaffected by what happens on the field. And heck — the Steelers could have at least hooked up a $10 garden hose to the cardboard Cowher's mouth with some duct tape so they could make it spit sometimes, you know? A little effort would be nice.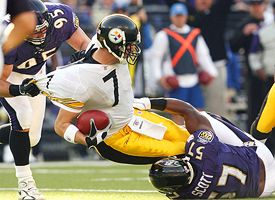 Obviously, the cardboard coach hasn't been teaching proper blocking schemes to Pittsburgh's line.
Ben Roethlisberger. Roethlisberger made playing quarterback in the NFL look easy during his first two seasons. This year? Not so much. What's worse is that it is unclear why he's struggling. And while I hate to resort to clichés and conventional wisdom, you almost wonder if an old, well-known football saying applies here: "It's tough to play well when you've been hit by a car, had abdominal surgery and been the recipient of a concussion all within a few months." Of course, another well-known saying could be at play here, too: "Act like a tool in a Fathead commercial and karma will get you."
Leadership. Jerome Bettis' on-field performance last season was overrated. But the Steelers miss Bettis' presence in the locker room. He led them with his physical style of play. He led them emotionally. And he led them to the postgame spread, often leaving no food for anyone else. That kept his teammates slim, fit and hungry — all elements Pittsburgh is lacking this season.
Defense. Pittsburgh befuddled opponents last season with its trademark zone blitz defense, regularly overwhelming and confusing opposing quarterbacks with pressure coming from all directions. But apparently the Steelers decided to change things up this season — the idea being that other teams would prepare all offseason for that sort of pressure and be ready for it. So now when the Steelers blitz they simply run right at the opponent's line and dance around for five seconds or so, never bothering to reach the quarterback. And while this is no doubt confusing to watch, it has been much less effective than last year's scheme.
Offensive line. As much as the Steelers have struggled this year, they have had success throwing screen passes to running back Willie Parker. This is because Pittsburgh's offensive linemen practice blocking for a screen pass on almost every play by regularly allowing opposing defenders to run right past them.